Our reviewers look at several important aspects of every compression shirt they are sent to determine how the best gynecomastia shirts compare and to calculate the final ratings shown the reviews. The criteria used in the reviews have been chosen as the most important aspects of these shirts from customer feedback as they relate to the men who have bought them.
The Overall Rating for each compression t-shirt in a review is evaluated from a varying degree of value applied to each of the criteria below as they relate to customer's experience.
How do We Rate Man Boob Shirts?
Review Star Ratings




Each shirt rating is based on a scale of 1 – 5 Stars depending on the experience of our reviewer with the shirt. Each shirt is worn during a period of several weeks in a variety of situations so that we get a good experience of how the shirt will perform.
The shirts under review are worn during typical work days, underneath business shirts, as well as in social situations beneath casual clothing. To further test the shirts they are worn during exercise and sporting activities and are washed several times to see how they stand up to rigorous use.
Results
The reviewer examines at the overall effectiveness of the shirts in reducing the outward appearance of man boobs. Does the shirt sculpt the chest and make man boobs disappear? Can the shirts be seen underneath other clothing? are just some of the important questions that these compression shirts have to answer.
Quality
How well are the compression shirts made? When comparing the gynecomastia shirts we looked at the quality of the material and stitching. Do the seams look like they will come apart after only a being worn a few times? Some cheap compression shirts we've seen are made from thin low quality material that wouldn't last one month, we wouldn't want to recommend those man boob shirts to you.
Comfort
The best shirts for gynecomastia are designed to be worn all day, during all sorts of activities. The last thing you'll need is an uncomfortable shirt that chafes at your skin or makes you sweat. A well made compression shirt will feel like you're not even wearing it. Quality materials and well stitched seams are what we're looking for.
Value for Money
Our reviews compare the compression man boob shirts to determine which one offers good value for money. The shirt's price, quality as well as its effectiveness is taken into account when determining its value rating.
It's worth noting that even though the compression shirts comparisons shown above are supported by in-depth research and customer experience, it is important to understand that results may vary depending on your physique.
If you choose a compression shirt as part of your method of how to lose man boobs then tell us if they worked for you by using out contact form.
The Best Compression T-Shirts to Hide Man Boobs?
If you're waiting for your gynecomastia pills or exercise program to start to work then wearing compression t-shirts is the best way to hide man boobs. There are several brands on the market, each will give immediate results without any effort, and no one will know you're wearing them.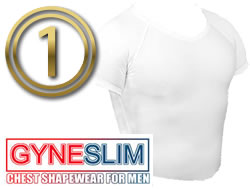 GyneSlim™ is designed for gynecomastia sufferers
Hides man boobs instantly
Invisible under any clothing
Has a slimming effect on the belly area
Cooling compression fabric
Made in USA
Price: from $25.99 + FREE SHIPPING
Out of all the compression shirts we've ever tested, including gynecomastia shirts and slimming shirts, our reviewers found that GyneSlim™ shirts are the best to hide man boobs. We found the best results are from the ones that are designed for men with gynecomastia, and the chest compression results are far better than from regular compression shirts.
The best thing about GyneSlim™ shirts is that you get immediate results and and they also can be worn under all of your regular clothes without anyone noticing. Our GyneSlim™ review found that there's also a slimming benefit to this shirt, which is a bonus. We recommend GyneSlim™ shirts as our No.1 because its a shirt that effectively targets your chest and it also gives you a slimming effect.