SlimTek™ Shirts

overall review score
out of 5
Reviewed by
Ricky
Shirt Company Website: SlimTekShirts.com
Price:from $34.95 +$9.95S&H
SlimTek offers both short sleeved and sleeveless versions of their shirts, mainly for slimming your belly and to some extent they work on your chest as well, but we found their short sleeved shirt to be too long to wear under some shirts. Read on to hear what we have to say.
SlimTek shirts are made of a high compression material that could work for men suffering from Gynecomastia, but the shirts seem more like a sports shirt than an undershirt.
Here are a few highlights about the brand.
3rd Place rating in reducing the look of Moobs (Man Boobs)
Slims your chest and belly area
Will fit under some shirts
Made in the USA
Helps to make you look slimmer
Athletic styling so you could wear this shirt on its own
SlimTek Review:
After ordering our shirts (short sleeved and sleeveless) we got them by the end of the week.SlimTek™ ships using Priority on orders of 2 shirts or more(verified) and according to them First Class mail on single shirt orders.
The shirts compress really well, but not as good as the #1 brand GyneSlim™ and that should be the case as they are meant to shrink your belly. What I did not like was the small neck opening which can make it harder to hide under a shirt and the longer than normal short sleeves combined with small sleeve openings, but more on that later in the wearability section. In these two areas (Compression and fit under garments) GyneSlim™ far outshines all of its competition, better than CompRX™ or SlimTek™.
Our samples were both white, which I like, but you can get both the short sleeved and the sleeveless styles in black. I did find that the material was quite thin which made it easier to see through the shirt and if you are hairy like me white might not be the best choice in these shirts. The grey stitching gives the shirt a sporty look, but could also possibly be seen under a thin light colored shirt if you wore one overtop.
Like our other reviews, our test criteria are broken down into three categories: Wearability and comfort, Performance, and Overall Satisfaction
Overall Satisfaction:
The shirts have a nice finish! They do help in hiding some of my gynecomastia. The shirt does a nice job of keeping me cool and feeling fit. But SlimTek™ fell short in making the short sleeved shirt look invisible under your clothes. The Sleeveless works much better for hiding the fact you are wearing one, but they are not as comfortable to wear as the GyneSlim™.
In our tests we found SlimTek™ makes an adequate set of quality shirts!
Performance:
Their sleeved shirt performed well, helping to reduce the look of my manboobs, while their sleeveless compression gave a little less compression in the chest area, probably due to the lack of sleeves as you loose some of the support that helps lift and hold a larger chest.
>>> Visit SlimTek™ shirts <<<
Wearing the shirts at work was comfortable and as it is winter (at the time of this review) I don't have to worry about wearing short sleeved shirts or lower cut neck lines. Come summer I don't know if I could get away with wearing the short sleeved shirt, I would have to use the sleeveless one.
Wearability and overall comfort:
Short Sleeved Shirts: The sleeves are too tight fitting for men with larger, thicker arms. The first few times I wore them I felt very uncomfortable, then I came up with the idea to over stretch the sleeve opening and found out that it is the type of thread they use and the stitching that does not allow for enough expansion on the shirt sleeve. I stretched the sleeves until the threading ripped a bit which made them comfortable to wear. They had a good amount of compression, enough to feel them working but not too much to make them uncomfortable.
Sleeveless Shirts: No problem with sleeves here, but I found the area under my armpits to chafe a bit, I think that is because of the design of the sleeveless shirt, with the hole for the sleeves somewhat tight causing the material to rub.
Overall the shirts had a good amount of compression, enough to feel them working but not too much to make them uncomfortable.
Buy SlimTek™ Shirts
from $34.95+$9.95S&H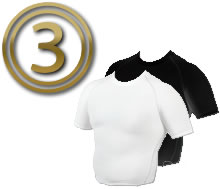 We recommend the 5 Pack for $124.95 (+ $9.95 S&H), which works out to only $24.99 per shirt. A great price for a good quality compression shirt.
When ordering your size, keep in mind that these shirts work best to hide man boobs when you order them one size smaller than normal, I'm normally a size large and for me a medium size gives me the best look.